Dubai is filled with many cultural attractions to do and see. There are shops and hotels that cater to every persons specific desires. Even though Dubai can become hot and humid, there are still many things to do inside! My experience was fantastic because of where i went to. I got to eat so many things and buy a whole bunch of items and go see a ton of cool and interesting places. There are Unlimited amounts of amusing land marks, stunning restaurants and so many other remarkable places and attractions to see. Dubai is a outstanding destination to stay in for any reason. Shopping, swimming, seeing the city and anything else you could possibly think of.
Best Hotels
You need a nice place to stay when your in Dubai and also get your moneys worth while sleeping. Two hotels I went to were Atlantis The Palm and Jumeirah Madinat hotel.
Atlantis The Palm
Atlantis is a terrific place to stay if you love staying around your own resort. They give a admirable room and a perfect menu with exceptional room service. They offer a once in a lifetime dolphin and shark petting experience. You can go eat at the top of the class restaurants down below with all the shops. This is a fantastic place to stay in, however you wont have much time to do anything else in this aesthetically pleasing, castle like resort.
Jumeirah Madinat Hotel.
This resort is luxurious and majestic for all. The ancient like setting and fantastic rooms they present are gorgeous. This place is everyone. You can go to the long stretch of beach, fitness center equipped with the latest tech, pools with side bars, kids club with all your children's needs or visit the private souk filled with stores. Enjoy a buffet, barbecue, beer or seafood in this resort. There are so many types of food the restaurants buffet centre has to offer that it is too much to wrap your own mind around. Name it, they have it. The delectable food and wonderful atmosphere is just more than what you pay for. This is the only way to eat here in Dubai. The best part is that you can travel around the 4 hotels in an Abra, type of traditional boat. The 4 hotels are Jumeirah Al Naseem, Jumeirah Al Qasar, Jumeirah Mina A' Salam and Jumeirah Dar Al Masayaf. As part of the Jumeirah hotel chain, the wild wadi water park is part of the entertainment package and also the Burj Al Arab, island 7 star hotel, is also accessible to the Jumeirah hotel residents.
Worlds Tallest Building Landmark
This incredible building Dubai has manged to build is a world record holder for being the tallest in the world. Standing at 830 metres, this skyscraper includes a school, restaurants, apartments, hotel, studios, galleries, gym, spa, observation deck and stores. You can visit the top and it is amazing and a unbelievable experience but I will stay down here with my 1 Million dollars.
Best Places To Go Eat
Al Dawar Revolving Restaurant
We all get hungry at some point, so why not treat yourself in Al Dawar revolving restaurant? This fabulous restaurant gives marvelous views of Dubai's city skyline and the tropical seas out beyond. This is one of a kind and an amazing place to go with family, friend, partner/s or even alone for great food at a cheap price. This 360-degree view of the city where you can view the Burj Al Arab, main city, Burj Khalifah and Emirates Mall combines it with culinary excellence. It also has a live kitchen dining in a chic, tropical colonial setting or you can instead treat yourself to a hand crafted cocktail at the beautiful lounge. It's truly a great place to go to.
Amseena
This romantic, enchanting and absolutely wonderful Arabian styled buffet offers many variations of food including seafood, meats, desserts, drinks and more to choose from on the endless buffet tables. I enjoyed the shisha, hookah menu while I relaxed to the strains of live Arabic music and belly dancing, which the girls told me to try. Staff are very polite and customer oriented and adding to the great service, the atmosphere is fantastic. The price is very reasonable for the quality. I doubt I will find a better place to eat in Dubai. This is first class dining my fine sirs and ladies.
Places To Go Visit
There are endless amounts of places to go in Dubai but here are some you should definitely go see.
Wild Wadi Water Park
This water park is filled with fun surprises. Each ride is different and great in their own way. You can laze around or be falling down a slide! This place is great for all ages since there are food stands everywhere and rides fit for each age. The bright colours around the park and welcoming staff will make this place even more worth your time. Expect compliments from staff since I was complimented multiple times with messy hair. You can do so many things within just one water park, its exquisite.
Gold Souk
The bedazzling market filled with the gold we love, is great place to go for cheap gold. Gold here is sold by weight and not design so that is why it is cheaper than what you would get anywhere else. The minimum quality is 18k however, dowery gold that is used in local weddings is normally the softer but more expensive 24k. The gold souk has undergone a transformation over the years and is now a gold covered walking mall where the "Streets are literally paved in gold". They sprinkled gold flakes into the concrete of the streets so you walk on gold.
Dubai Fountains
These gorgeous fountains that dance to the melodic beat of Arabic Music shoot up sky high next to the amazing Burj Khalifah. You can enjoy a lunch, breakfast or dinner while watching the fountains or just stand or sit and enjoy the show too. This place is romantic but entertaining so any age is suitable here. When the sudden fountains start, the atmosphere will change drastically. You will feel like royalty watching a show because of these colossal, bright, thundering fountains.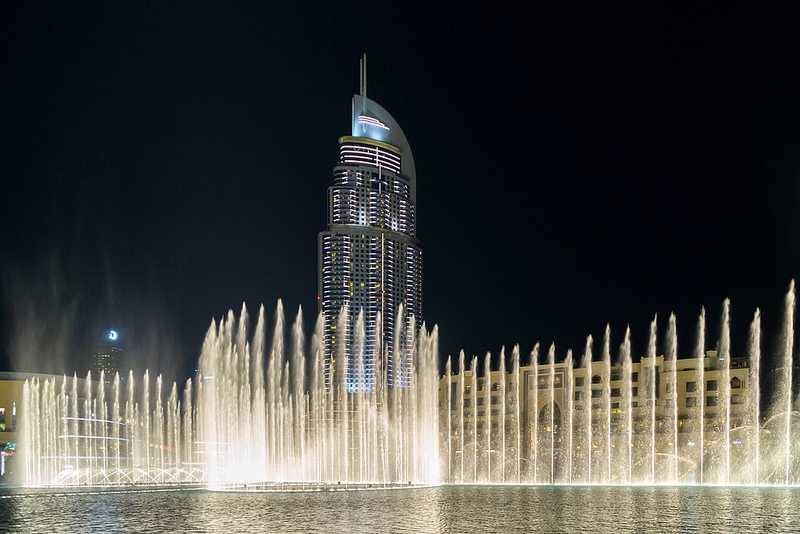 Emirates Mall Ski Centre
Wan to enjoy a nice snow day as well as having a nice beach holiday? Emirates Mall can help. They made a Sky Centre for everyone. The glistening snow and cold air will make this place your winter wonderland. You can ski, tobogon, snowboard, zip-lime, chairlift or even have a snowball fight with friends/family. The best part is that you can visit penguins here too. Dubai is jam packet with things to do and this is a must.
Nutella Cafe Dubai International Airport
I personally love chocolate, Nutella in particular, so this place is close to heaven for me. I got my very own personalized jar by having my name planted on it. The Hazelnut spread on mini pancakes with other grab and go desserts here are to just die for. The aesthetic is wonderful because it matched the Nutella jar we love. Staff and service are splendid and I wish all places were like this. All the displays and furniture they use is perfect. WiFi is here, its all kid friendly, Indoor and Outdoor seating, wheelchair accessible and no alcohol allowed. Its perfect! You need to eat here and not miss out.
Shopping
Al Karama Old Market
Cheap, realistic, fake big brand items. What more could you want in the shopping world, you want the big brand clothing but it's too expensive to buy. Simple solution, come to Al Karama and buy Gucci, Louis Vuitton, Chanel and every brand you can think of. 4 brown buildings, each with rows and rows of fake stores. You can get a Louis Vuitton bag for 80% off the real price and say you bought a real one. Al Karama market is not glorious looking or majestic or beautiful looking but it's a dream land for those who love shopping. Those sellers will physically walk up to you and show you an item and persuade you to buy it as well as displaying different prices. Don't forget that you have the reigns in your hands. Pull down the price to what you want when the seller agrees with you on the price. They disagree? Easy, just leave. They will call you back in no time and offer a low price.
Dubai Mall
Dubai mall caters to each price ranging from $5 to $50,000. It's glitz, it's glam and most importantly its gorgeous. Nothing less than a marble paradise. Souvenirs, clothing, food, spices and so many more. They got everything. Internal fairgrounds and places to drop your kids of while you go shopping for a while. Restaurants based off of countries like Russia or Malaysia with so many types of food. Cafes have the best kinds of drinks and cakes that you could ask for. It's a town center within one building. Malls within malls. There are many things Dubai has to offer but there is a list that stays on top and the Dubai Almighty Mall has a placement on that list.
Top Tips
Bargaining, Haggling
For those who visit Karama Market, bargaining or haggling probably means something to you. So, when bargaining,haggling, you have to be good at communication. Don't act so stubborn where you look selfish but to a point where you both agree on a price. If they refuse to even lower from the original price then leave the store and they will fish you back in with a lower price.
Weather & Best Time To Go
The weather here is fantastic for almost all year round! Summer is excellent and so is Spring and Fall. My one experience in Dubai from Winter was an absolute nightmare because it was to cold to even move! So I would not bother going in Winter. During any other time than Winter, it's scorching and you better pile on some sunscreen. So any time between Spring or Fall is good to go.
What To Bring
Packing clothing is important in Dubai since you never know what you're going to do there. My recommendation is to bring clothing for all seasons but don't pack a Jacket. They're not needed and takes to much space. Other than that, you bring what you normally bring however, leave some extra space for what you buy in Dubai to bring back.
Budget & Duration
The duration for staying in Dubai is mainly a minimum of one week and the maximum is 2 weeks, just from experience. Budget is the tough one. You can not explore Dubai on a certain budget and do all the things you want to do. For budget you need to keep your options open because you never know where Dubai is going to take you.
Conclusion
Dubai is the best place to go to because it has everything you could possibly dream of. Dubai meets every travelers needs whether its a beach or city or a mall, it has the friendliest people you could ever meet as well. The taxi drivers, shop keepers and citizens are friendly beyond belief. Food is fantastic, people are friendly, weather is extraordinary, shops and other places to go are all very much excellent. Worth the money and very much worth the trip. Visit Dubai and have the time of your life.